The Myers V2 series grinder is engineered from the ground up, in order to overcome the increased debris and higher pressure required in today's wastewater environment. It features a patented axial cutter design and semi-open impeller to effectively macerate challenging sewage solids into a fine slurry.
Easily slices through solids and trash found in domestic wastewater without roping or clogging.
The only single stage 2 HP grinder that can deliver up to 185' of lift for superior performance and reliability.
True early warning system for reduced downtime and maintenance costs.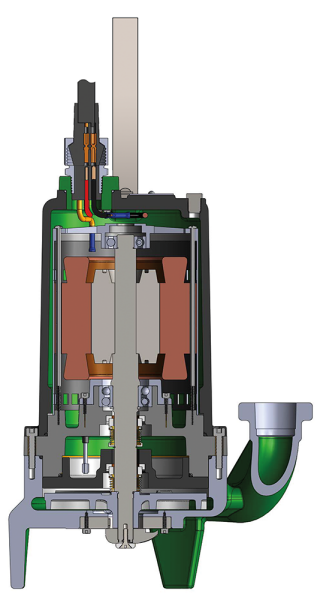 Cable entry system: Provides double seal protection. Cable jacket sealed by compression fitting. Individual wires sealed by compression grommet. Power cord can be replaced without disturbing motor. Optional quick disconnect available
Grinder assembly: Rotating cutter and stationary cutter are replaceable without dismantling pump. Constructed of 440 SST hardened to 57-60 Rockwell
Ball Bearings: Upper ball bearing and lower double row angular contact bearing support shaft and rotor.
Seal leak probe: Detects water in seal housing, activates warning light in control panel.
Volute case: Cast iron 1-1⁄4" NPT vertical flanged discharge.
Stator: 2 hp, 3450 rpm, single and three phase. Oil-filled motor conducts heat and lubricates bearings.
Heavy 416 SST shaft: Corrosion resistant. Reduces shaft deflection due to grinding loads.
Shaft seals: Double tandem mechanical shaft seals protect motor. Oil-filled seal chamber provides continuous lubrication.
Impeller: SST, semi-open impeller handles ground slurry without clogging or binding. Pump-out vanes help keep trash from seal, reduces pressure at seal faces.
RESOURCES